Get Better Car Security With A Transponder Key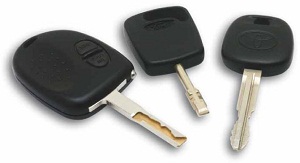 Many of us consider our car a very important asset, which is why we highly take into account its security and safety. Car manufacturers acknowledge this concern and developed advanced type of keys, known as transponder keys, that can reduce chances of thieves stealing our car.
Basically, transponder keys are automotive ignition keys that are each configured with diverse, special set of codes. These keys contain signal emitting circuits and can work using radio wave frequencies. Although, the circuit has no battery, it can charge itself using the radio signals it acquire.
How A Transponder Key Works
When the transponder key is inserted in your car's ignition, it automatically connects with the security device installed in your car. The key receives the signal emitted by the security device via radio wave frequency. The codes in your transponder key will be processed and if the system identifies a match, then your car will start. Conversely, a key with an invalid code won't work on your car.
Advantages Of Transponder Keys
Unless you ask for a spare from the manufacturer, your transponder key cannot be duplicated. Each key is created to work on a specific car. This means, no key or transponder key can make your car function other than your issued keys. This feature has helped reduce car theft all over the world.
Transponder keys can control certain functions in your car from a short distance. They add convenience by allowing you to lock and unlock your car doors by just pressing a single button.
Added to the coded security, is the alarm system. You car will emit an alarm every time it identifies an unauthorized method of access.
While the type of key has added extra security and convenience, you may need to spend a lot of money in case the key is lost or broken. This is why, it is advisable to ask for an extra key from your car dealer upon purchase of your car. Keep your extra transponder key in a safe place.
If you failed to acquire an extra key or have lost both keys, there is an effective and less expensive solution yet you may need to do some research. You can acquire the services of an automotive locksmith. Make sure to hire a certified automotive locksmith since if done so, you may pay less compared to ordering another key from your car dealer.
There are car manufacturers that release programming codes  and information to certified and reputable locksmiths. Once they have the codes, automotive locksmiths can program a transponder key to work for your vehicle. Locksmiths can provide the key at your location as well as ask a fee that is only a fraction to what the dealer charges.
As each transponder key can work on a particular car, makes the technology a great addition to car security. Make sure to get a extra key upon purchase of your car. To lessen expense in case of key damage and lost, acquire the services of only certified automotive locksmiths.